Curating exhibitions on speculative and participatory design
Seminar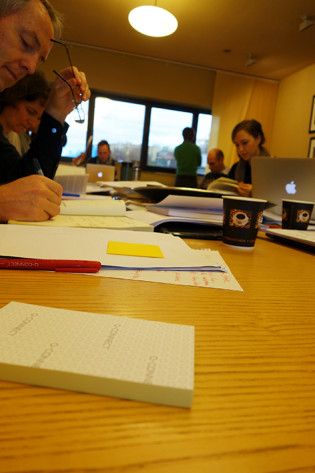 Time

2 February, 2016,

10:00 – 11:00

Location

Board Room at AHO
Welcome to an Open Research Seminar hosted by the CDR at AHO.
AHO Teaching and research staff, doctoral and master's students and colleagues elsewhere are most welcome at this free event by a leading international scholar.
Presenter: Dr Katherine Moline
Guest commentator: Prof Dagny Stuedahl NMBU
Dr Katherine Moline, Postgraduate research coordinator, UNSW Art&Design has recently curated exhibitions of speculative/participatory design. At the seminar She will present this work, and how participants are positioned in research at Goldsmiths, London, and KADK, The Royal Danish Academy of Fine Arts, Copenhagen.
Katherine writes about her recent work: I've focused on publishing (three chapters for different books completed) and curated the exhibition and symposium 'Feral Experimental: New Design Thinking' at UNSW Galleries (July-August 2014), modified the exhibition for 'Experimental Practice: Provocations In and Out of Design' at RMIT Design Hub (May 2015) and remodelled it again for 'Experimental Thinking/Design Practice' at Griffith University, Brisbane (August 2015). The Melbourne and Brisbane versions of the exhibition were co-curated to focus on local concerns, such as data and design with Brad Haylock and Laurene Vaughan at RMIT, and focus on data, the body and art for the Brisbane show with Peter Hall and Beck Davies at Griffith. Its probably worth watching the video on the current exhibition in Brisbane to get a quick sense of what its about:
https://www.youtube.com/watch?v=9fSXUp_c2cc
The current exhibition includes speculative and participatory/co-design, such as ECDC by Bill Gaver and co at Goldsmiths, and DAIM by Joachim Halse, Thomas Binder, Eva Brandt and colleagues in Copenhagen.