Doctoral Thesis Defense: Judith Gloppen
Doctoral defense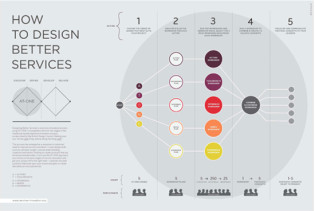 Time

11 December, 2012,

10:00 – 16:00

Location

AHO
PhD Candidate Judith Gloppen  is set to defend her thesis, entitled "Service Design Leadership. Shaping Service Innovations at the Intersection of Design and Strategic Management", on December 11, 2012.
Trial Lecture 10:00 a.m. : "How would you approach the implementation of service design leadership, what are challenges, from a practitioner perspective, to embracing service design leadership and how might these be addressed? What are areas for future research that might help overcome potential challenges?"
Phd Thesis
The thesis contributes to the field of Design Management as well as to the emerging field of service design. The contribution includes a framework for service design leadership that exploits a combination of skills, knowledge, and approaches from business and design, adapted to the process of designing new or improved services. The synthesized knowledge informs and influences the leadership approach and capacity to shape service innovations. However, this thesis argues that developing innovative services do not materialize by simply adding design proficiency knowledge to the organizational knowledge but rather as the result of a strategically managed process of integrating these diverse knowledge sets.
The study draws on cross-disciplinary research and theories as well as utilizes the author's hands-on experience in design management. Further, insights and data were collected through an empirical study that included participative and non-participative observations in workshops as well as semi-structured interviews.
Service design leadership concerns future leaders that recognize how the knowledge of service designers, design thinking and designers' approach to problem solving may complement their own (existing) knowledge and approach to service innovation, strategy building, and organizational transformation.
About Gloppen:
Judith Gloppen holds an MBA in Design Management from the University of Westminster, London and her business education from the Norwegian School of Management (BI). She learned the value of the strategic use of design in a holistic perspective while being responsible for the strategy and the development of the souvenir products for the Lillehammer Olympic Winter Games. As responsible for developing and implementing the design strategy for the successful service brand Flytoget in Oslo, she combined business strategy with the knowledge and approaches of designers. Before starting her PhD studies as part of the AT-ONE research project at AHO, she was a business advisor at the Norwegian Design Council. This is also her current position after a three-year leave of absence to work on her PhD. She served as an advisory council member of the Design Management Institute (DMI) 2003 – 2012.
Adjudication committee:
Director, Dr. Bettina von Stamm, first opponent
Professor Lisbeth Svengren Holm, second opponent
Associate professor Synne Skjulstad, coordinator
Detailed program here