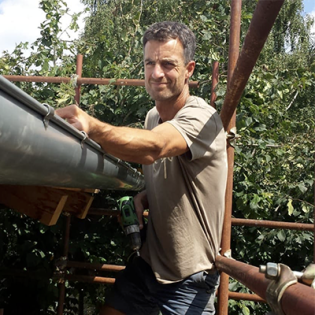 Tobias Luthe
Associate professor
Email

Website
Biography
Tobias Luthe (PhD) is an academic transdisciplinary hybrid, merging sustainability science (natural/social science interface) with forest/environmental/wood engineering, landscape planning, holistic architecture, service and industrial bio design, and sustainability economics.
Tobias currently works as professor for sustainability science and regenerative design, associated at The Oslo School of Architecture and Design, ETH Zurich, the University of Freiburg, and visiting at Politechnico Torino.
He is specifically interested in nature-based design and governance innovation for resilient regenerative systems across multiple types and scales, and how to integrate science, design and practice in transdisciplinarity. His current research focuses on four interrelated themes:
1. resilience of complex social-ecological systems (SES) to global environmental change, i.e. alpine-urban and Arctic environments;
2. societal sustainability transitions and systemic innovation;
3. regenerative systems design, i.e. bio-inspired, nature-based solutions with circularities in the economy and multiple scales of SES, spanning from raw materials to products and buildings to land use and bio-regional economies;
4. real-world laboratory communication, experiential learning and behavioral change for sustainability.
With his company Grown (www.grown.ch), an outdoor creativity lab, he eco-designed skis from hemp fiber composites, awarded with industry-leading eco design prices. He is co-founding director of the MonViso Institute (MVI) (www.monviso-institute.org), a real-world mountain laboratory for sustainability transitions and systemic regenerative design, located in the Italian Piedmont mountains. Here he is creator and builder of a passive net-positive building, an educational illustration of circular design. Tobias is a mountaineering guide, offering unique human-nature experiences at the interlink of science, nature-inspired creativity, and mental-physical experiences beyond the comfort zone.
Projects:
Alpine Circularity: Regenerating Mountain Communities through Systems-Oriented Design|Go with the Flow