AHO Bridge wins DNB Innovation prize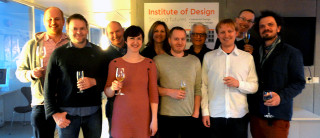 The Ulstein Bridge Concept (UBC) has won a major Norwegian prize for the best innovation idea of 2012. This is a milestone for the maritime focus on AHO, says project manager Kjetil Nordby.
Eight finalists were hoping for first place after the regional winners were published in February. The winner was announced on Tuesday, and Ulstein Bridge Concept won the prize of one million kroner for the concept "Ulstein Bridge Vision". The prize was given by DNB, Norway's largest financial services group.
The bridge developed by UBC provides a radically new working environment for the officers onboard offshore service vessels.
– The Institute of Design at AHO has put a lot of effort into maritime research. The DNB award shows that we are on the right track. We will use it as inspiration in our continuing work to build a strong maritime design tradition at AHO, says Kjetil Nordby.
Ulstein Bridge Concept is a collaborative project between AHO, Ulstein, College of Ålesund and Kwant Controls. AHO is in charge of the design and research process.
– This is a wonderful recognition, both to Ulstein as an innovation-driven company and to our young and energetic research group within the maritime sector at AHO, says rector Karl Otto Ellefsen.
Since 2003, DNB's Innovation Award has drawn attention to the value of knowledge-based business development in Norway. With the Innovation Award DNB wants to inspire innovation and growth. The award goes to an idea which applies new knowledge or uses existing knowledge in an innovative manner. The idea must have a clear commercial potential related to sales, environmental benefits, jobs, cost savings etc. and a well thought-out business plan.