Augmented Reality and the City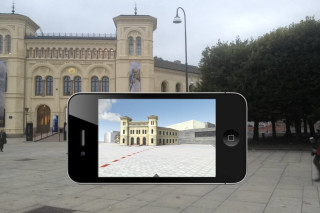 Date: Friday 9 November 2012.

By invitation: project group and invited guests, max c. 20 participants.

Venue: AHO Conference Centre (entrance on Maridalsveien).

You're very welcome to attend this one day event as part of the YOUrban project at AHO into social media, the city and performativity. This is a design based research seminar that centers on the development and role of augmented reality tools and mediation in urban settings.
The seminar draws on the innovative work of our project colleague Gunnar Liestøl from the Department of Media and Communication at the University of Oslo. He'll be presenting the AR platform he has developed and most recently its application to the new national Museum in Oslo. Gunnar has also published widely on design, testing and learning connected to his wider research on AR and most recently this museum site in central Oslo.
Gunnar is now also collaborating with Professor Larry Friedlander(Stanford University), one of our network collaborators on the YOUrban project, who has a wealth of experience on 'new media' and museums, amongst other fields. Larry will give a guest lecture as part of the event.
This promises to be a lively session for the project researchers and designers, its PhD students and related researchers also engaged in design, the city, museums and social media. Welcome.
Session 1
1000-12h00
Andrew Morrison: Introduction
Gunnar Liestøl: Developing an AR platform and related cases
Larry Friedlander: The Temple on the Mount
Gunnar: Demo and metaphors
12h00-13h00 Lunch at Westerdals canteen
Session 2
13h00-14h00
Larry Friedlander: Challenges of the new global city – the plight of museums as an example of the changing functions of cultural institutions in a digital world
1500-1600
Gunnar Liestøl: Demo at new national museum site.