Centre for Design Research presented to online research media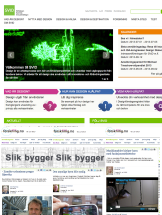 Centre for Design Research has been presented in two different online research media with various of its' projects and researchers.
After a very successfully academic year with a considerable many new publications and design products,  Centre for Design Research entries summer with a broad presentation in various online research media.
Swedish Design Research Journal, in it's current issue focuses in Norway. CDR is presented in nine pages with the following projects : Ullstein Bridge Visions, Ullstein Bridge Concept, YOUrban, Ocean of Light , RHYME, Communicating Movement.  Under the reportage director of CDR  Andrew Morrison, head of Institute of Design Rachel Troye, professor Håkan Edeholt and researcher Kjetil Nordby present and discuss the spectrum of CDR.
You can read the whole issue here:
http://www.svid.se/upload/Forskning/Design_Research_Journal/Design_Research_Journal_nr_1_2013/Design_Research_Journal_nr_1_2013_English.pdf 
Norwegian online research magazine forskning.no has presented the CDR the last two weeks , with two projects and one researcher:
– YOUrban  was the first project appeared and presented by Andrew Morrison
http://www.forskning.no/artikler/2013/juni/360534
– Jonny Aspen and his concept of Zombie-urbanism
http://www.forskning.no/artikler/2013/juni/360650
– RHYME and designer-research Birgitta Cappelen
http://www.designresearch.no/projects/rhyme/news
Centre for Design Research wishes all its employees a very good summer!