Conversations on the Design PhD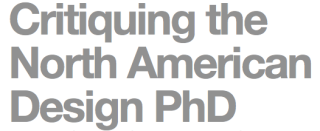 The School of Design at Carnegie Mellon University hosted this international symposium 'Critiquing the North American Design PhD' to discuss the character and direction of the PhD in design specifically in the North American context. This event is part of their initiative to reshape the leading work of this institution in design education and research, and especially doctoral design education. International and regional presenters discussed their experience in working with PhD education and research and its relevance to wider design communities and professionals.
'Convened by Cameron Tonkinwise and Laurene Vaughan, this symposium will bring together a breadth of expertise to discuss the topic. The methodology for the symposium is critical conversations. To facilitate these conversations a number of things have been done. Ten design researchers have been invited to participate and to provide the basis for the initial conversations. A series of provocations have been put forward by the convenors to facilitate the critique.' (event website)
'Critiquing the North American Design PhD' then took up the catalyst texts, asked presenters to discuss them thematically and attached the responses of others to these. This was a most lively and open-ended and constructive day of conversations that CMU facilitated. The layers of provovational, presentational and participative texts are available in the symposium site.
From AHO, Andrew Morrison contributed a text entitled 'Reconfiguring the Design PhD through the Conjectural'. He contributed to two of the four panels.