Design as a driver of maritime innovation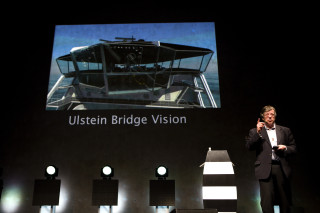 The Oslo School of Architecture and Design (AHO) received due attention for its role in the development of Ulstein Bridge Vision during the Design Day 2013. – The project is a perfect example of what design-driven innovation may lead to, pointed Skule Storheill, the Director of R&D and Innovation Programmes at the Norwegian Design Council, out in his introduction.
The collaborative project between AHO and Ulstein Power and Control, Ålesund University College and Kwant Controls, was an essential element in the opening speech of the Design Day 2013 at DogA 17th April 2013, held by the Minister of Trade and Industry Trond Giske. AHO is in charge of the design and research process.The project recently won the DNB Innovation Award.
Project manager Kjetil Nordby at AHO presented "Skipsbroen", which is developed at the AHO's maritime designlab. Important principles as user needs and future-oriented solutions characterize this bridge.
– The project demonstrates how design research may affect the agenda for innovation in traditional industrial sectors in Norway. We see that our way of working creates tangible values for our partners. In the further work we will use our experience from Ulstein Bridge Vision to develop new and exciting research at AHO, Nordby says.
Minister of Trade and Industry Trond Giske emphasized the importance of the innovation aspect of design and designers for Norwegian competitiveness – and highlighted the maritime sector in particular.