Doctoral Thesis Defence: Timo Arnall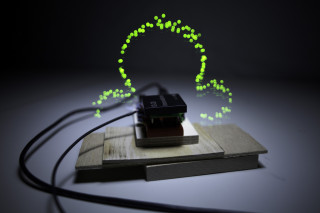 Phd Candidate Timo Arnall is set to defend his thesis, entitled 'Making Visible – Mediating the material of emerging technology' at Høgskolen i Oslo og Akershus on June 12th at 11am.

Title of trial lecture: "Remaking the cultural construction of immateriality through discursive design: from digital materiality to digital materials"
About the thesis
In this thesis I outline how interaction design may engage in the exploration and understandings the material and mediation of new interface technologies. Drawing upon a design project called Touch, that investigated an emerging interface technology called Radio Frequency Identification or RFID, I show how interaction design research can explore technology through material and mediational approaches. I demonstrate and analyse how this research addresses the inter-related issues of invisibility, seamlessness and materiality that have become central issues in the design of contemporary interfaces.
I find that RFID interface technology can be explored through a combination of multi-mediational visual investigations, both analytical and productive, that construct new perspectives on the technology. These new views challenge existing views of the technology as a 'seamless' and 'immaterial' phenomena, showing that it has both cultural meanings and material phenomena. The main contribution of this thesis is a range of concepts that offer cultural, material and communicative perspectives on emerging technologies. The study builds a body of knowledge about RFID and related emerging technologies, that demonstrates potential of these concepts and approaches.
About Timo Arnall:
Timo Arnall is a designer, filmmaker and researcher working with interactive products and services. He has been making films, designing products, and researching emerging technologies for 15 years. Much of his work has been about understanding, developing and explaining interface technology through films. Arnall is a research fellow at the Oslo School of Architecture & Design and designer working with the London design studio BERG. Prior to joining BERG, Arnall led the international research project 'Touch' investigating emerging wireless technologies through design.
Adjucation committe:
– Prof. Lars Hallnäs, Interaction Design, Swedish School of Textiles, University of Borås
– Ass. prof. Matt Ratto, Faculty of Information, University of Toronto
– Ass. prof. Synne Skjulstad, Westerdals School of Communication