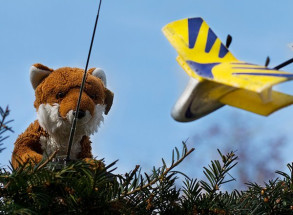 Everywhere you looked in the media in 2013 you'd see us, I feel we have been replicated, our forms and our purposes entangled, an archaeology of the future I like to call it. There were those feelers of the future in the archives of airborne technologies of the late 20th century, reachable in online repositories such as this one that looks like an early motion capture flip book!
And then second image, how we became the stuff of makers and collectors, shaping their own Lego-like arsenals of representation lodged in the photo service Flickr. Pieces of popular culture at the same time as pieces of human and then computer targeted coordination. From war, to bedrooms, to boardrooms, to the boredom of my daily hovering above the streets. I'd better not get too poetic, somebody already incorporated my poetry that in their research paper on design fiction and WiFly.
Teledyne Ryan UAV Drone RPV Firebee (from San Diego Air & Space Museum Archives); Playful rendering. UAV "Eagle Eye" 1. UAV Drone for both the Baltic Union and Australian forces (Tom Neumo).