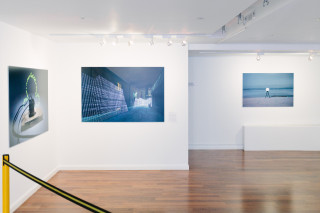 The work in YOUrban that has been carried out under the 'Immaterals' theme is currently showing in two exciting exhibitions in Brighton and Amsterdam.
From 5 September to 13 October Lighthouse in Brighton will be hosting an exhibition that draws together the various projects that have been carried out under the 'Immaterials' theme. These projects stem from the previous AHO Touch project in collaboration with BERG, and the work carried out in the YOUrban project, including Immaterials: Lightpainting Wi-Fi and a sneek peak from our current project 'Satellite Lamps' that explores and visualises GPS signals as they take place in the city. From the exhibition text:
Our environment is comprised not only of the physical, visible architecture and infrastructure that we can see and touch, but also of immaterial and invisible technological infrastructures that have an increasingly profound impact on how we experience the world. WiFi, GPS, RFID and mobile networks are the invisible materials, mechanisms, and infrastructures which enable contemporary digital culture. But our inability to see these systems hinders our capacity to understand their importance.
Timo  has written more about the historical development of the 'Immaterials' work here. It's wonderful to see the work collected in both print and pixels in one space for the first time. Thanks to Honor Harger and all the lovely people of Lighthouse for arranging the exhibition! Alongside the exhibition in Brighton, the 'Satellite Lamps' project is also being exhibited at Dread that takes place in Amsterdam 6 September to 24 November at De Hallen. The exhibition investigates fear in the age of technological acceleration, and is curated by Juha van 't Zelfde. Dread includes a range of artists, musicians and designers including our friends James Bridle and Espen Sommer Eide. We are very happy to be part of it.