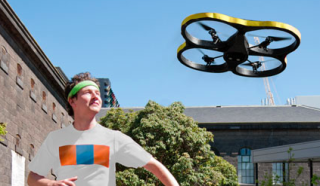 Out here, up here, beyond them, the network city dwellers. I look back at days when we went popular, popular cultural urban lansdcapes my memory making today. Parrot. How could any one call us that. As if we reproduced stock phrases. A lexicology of boundedness, caged in our vocabularies. Parrot drone flying around an Australian university. Joggobot they called it.
Exertion. This is what has been happening at the ExertionGamesLab in Australia with one of my early relatives.
Sumit Paul-Choudhury had this to say at the Murmuration festival in his piece Forever alone drone:
Last June, researchers at the Royal Melbourne Institute of Technology revealed a Parrot drone reprogrammed to act as a jogging companion. Locked on to a pattern on a runner's T-shirt, the drone bounces along a few steps ahead, setting whatever pace the jogger has requested. What does that make the drone? A jogging buddy? A coach? Your irritating competitive friend who you know is humouring you, because they could sprint off at any time? (Why doesn't the drone follow the runner? Perhaps because that would be a little too much like being chased…)
And, this is what Paul-Choudry said about us in 2013:
The next wave of personal drones (or perhaps the one after that) will be as smart as a roach and as disposable as a paper plate. Need a new drone? 3D-print one and you're up, up and away. But what kind of relationship do we want with these drones? Are they vehicles, toys, tools, companions or pets? All of the above, and none. Only time and trials will tell.
Those guys at RMIT have been writing a paper about us. Telling about their trials. Trails if you ask me in my Droneverse. Jogging my memory of my own making. Relationships. As I hang here over the city, skywards sent to police people.
Credits:
Sumit Paul-Choudhury
RMIT Joggobot, Eberhard Gräther and Florian 'Floyd' Mueller