Pit Stop – Centre for Service Innovation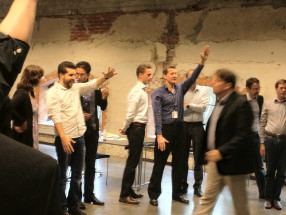 Its been a year since the upstart of the CSI project and Tuesday 2nd October saw the first major update of research that has taken place so far.
The theme of the event, PIT STOP was a chance to exchange knowledge and encourage collaboration. Researchers are getting deep into their work and planning their experiments. The business partners are working hard to include brand and customer experience into projects.
The event was a chance to get people together to find further areas of collaboration as well as to experience new ways of New Service Development together with Work/Play/Experience who use storytelling and enactment in their service design process.