Practice Based Design Research book is out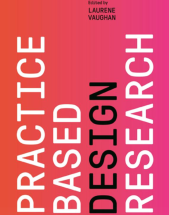 "Practice-Based Design Research provides a companion to masters and PhD programs in design research through practice. The contributors address a range of models and approaches to practice-based research, consider relationships between industry and academia, researchers and designers, discuss initiatives to support students and faculty during the research process, and explore how students' experiences of undertaking practice-based research has impacted their future design and research practice. The text is illustrated throughout with case study examples by authors who have set up, taught or undertaken practice-based design research, in a range of national and institutional contexts."

Vaughan, L. (2017). (Ed.) Practice Based Design Research. London: Bloomsbury.
Laurene Vaughan has edited a key text on graduate doctoral education that draws together a diversity of views from different global settings. At AHO, we have been fortunate to work with Laurene and her related colleagues and programmes in design at RMIT University in Melbourne Australia. We have two contributions to this collection, focussing on PhD curriculum design and the PhD by compilation model and its exegesis.
Laurene and Andrew Morrison of the CDR are writing a second book on graduate design education, specifically context rich studies of our two institutions' approaches and outputs concerning practice based doctoral inquiry.