RHYME user tests the Polly World
During November we user tested the 4th generation of the RHYME Co-creative Tangibles, the Polly World, at the Haug School and Resource Centre. This is the last user tests the RHYME project conduct at Haug with the children that have followed the project for 4 years.  We like to take this opportunity to thank all Haug personnel, children and parents for their unique contribution and engagement in the RHYME project.
During the user study both children, parents, personal assistants, teachers, music therapists and occupational therapists participated and gave their responses to the Polly World. With the Polly World we have tried to put together all the demands, suggestions and wishes from users and experts related to the three earlier generations of RHYME's Co-creative Tangibles, in addition to new Social Media functionality.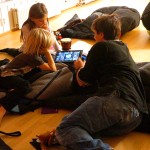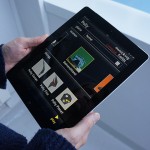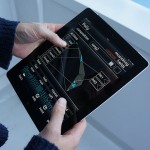 In the 4th generation of tangibles, family and friends explore interaction with social media, sending musical messages, using the PollyCompose App with a graphical interface and text in twitter. The family and other persons interacted and sent messages with picture projected in the physical tangibles Polly Land and Compositions to the mobile tangibles Polly Fire, Polly Ocean and Polly Planet