Simulators for design processes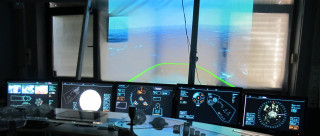 The use and development of ship simulators for design processes have been pursued in the Ulstein Bridge Concept (UBC) design research project for a while and we are steadily making progress. As part of our work we are pleased to present our paper «Towards a design simulator for offshore ship bridges» at the European Conference on Modeling and Simulation in Ålesund in may (ESCM). The paper is written by PhD candidate Helge Tor Kristiansen and Associate Professor Kjetil Nordby.
The ESCM conference is focusing on the research, development and application of modeling and simulation. We contribute to this academic field with our experiences from using simulators in the UBC project, in which we continuously develop methods and technologies that allow a closer integration of simulator in conceptual design processes.
ESCM web page: http://ecms2013.hials.no/84-ecms2013/ecms-frontpage/71-ecms-welcome