Towards Sustainable Design Development a report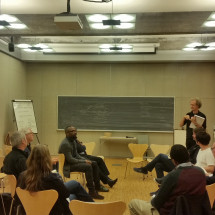 The two days seminar few days ago has been a successful meeting for C-SAN Futures project. The core team of the seniors researchers from Norway,Sweden, Kenya, South Africa and China came together to discuss, organise and elaborate the future strategies for translating knowledge into action. The discussions were joined by an interdisciplinary group of researchers and designers outside the network team. People from informatics, ethnology, film, systems design, and sustainable humanitarian development contributed with their ideas, proposals and energy in order to develop a better understanding and further working plan on climate change and the role of design within this topic.
The seminar began with Prof. Håkan Edeholt from the Oslo School of Architecture and Design, who welcomed and introduced the participants. His presentation focused on the current discourses on climate change and he called out for concrete activities from design world and the seminars' group.
Dr. Mathilda Tham held the second presentation from Goldsmith in London and Linnæus University in Sweden. She discussed the ways of educate for futures of sustainability and the need of paradigm shift in design education through design examples and projects.
The presentations were followed by a workshop, where participants were asked to elaborate with three main directions of climate change and design: ethics, professional and education
The participants then had the opportunity to exchange views, knowledge and concepts on these thematically directions and to take a more engaged role in the seminar.
The day closed with two guest presentations by Prof. Jun Zhang from Hunan University and Prof. Mugendi K. M'Rithaa from CPUT in Cape Town. Prof. Jun Zhang presented current projects and actions of his institution towards a more sustainable development.
Prof. M'Rithaa focused on the challenges the African continent is facing from climate changes and addressed the need of design actions.
The participants had the opportunity to continue their thorough discussions at the dinner.
Next day the presentation started with Prof. Andrew Morrison from the Oslo School of Architecture and Design, who discussed Design Fiction as a vehicle to explore alternative futures. He focused to the project Future North and the fictional personas as researcher and communicative agent of the project.
The day continued with a long round table discussion, where the members of the network and the participants were able to unfold and structure new strategies, actions and developments towards sustainable futures both in the network level and institutional.
Over all it was two rich days full of new inputs, ideas and connections. We all looking forward to see the future outcomes and we thank you all for your participation!